🌊 Undermining democracy in Southeast Europe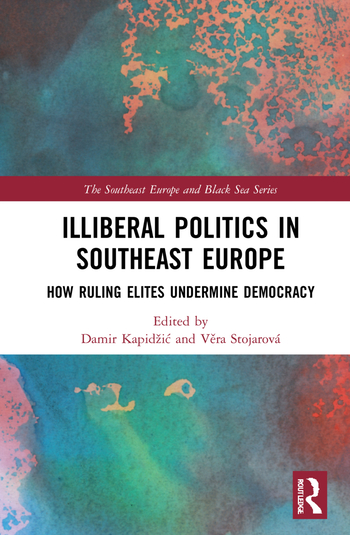 by Damir Kapidžić, The Loop
February 9, 2022
Illiberal politics are a way to understand the process by which ruling elites (mis)use democratic institutions of the state to create an electoral advantage for themselves with the aim of remaining in power indefinitely. Focusing on Southeast Europe, Damir Kapidžić explains the concept's roots in institutional legacies of past regimes
Among news reports detailing the rise of illiberalism, the demise of democracy in Southeast Europe does not warrant much attention. The countries of this region have not experienced a sudden breakdown of democracy. Still, a consistent and gradual decline over the past fifteen years is moving them ever closer to authoritarianism.
A closer look into the region can help us understand the role that institutional processes, influenced by historical legacies, play in weakening democracy. In his original piece in this series, Luca Manucci argues that the rise of illiberal challenges to democracy build on historical legacies of authoritarianism. Recent research on Southeast Europe confirms this point, and takes it a step further. In this sense it is not just historical memory and a normalisation of a non-democratic past that enables recent illiberal challenges. It is also an invigorated reliance on institutional processes that disregard liberal democratic norms.
Political parties in power that undermine democracy
In my recently published book, co-edited with Věra Stojarová, we emphasise this procedural aspect of autocratisation. It is political parties in power, and their leaders, that undermine democracy. The piecemeal way they do this, through democratically elected institutions, makes it more difficult to identify.
We use the term illiberal politics to describe the process where governing parties and their leaders enact sets of policies that extend an electoral advantage. The aim is to remain in power indefinitely while maintaining competitive elections. This includes perpetuating advantageous socio-economic structures and governing practices, as well as specific and targeted restrictive actions against political opponents and independent institutions. Much has been written about illiberal democracy and competitive authoritarianism. But there has not been a strong enough focus on the processes by which we get there.
Our focus on the 'how' of autocratisation allows us to identify policy areas in which budding autocrats undermine liberal norms
Our research gives prominence to the role of political parties in government with a focus on the 'how' of autocratisation. This procedural lens allows us to identify key policy areas in which budding autocrats undermine liberal norms. It also allows us to connect recent illiberal politics with institutional processes from the past; most importantly, the nature of democratic transition.
Procurement as example
For example, one key policy area includes state-owned enterprises and public procurement. In Serbia, we see public procurement used not just to reward political loyalty of economic elites, but also, indirectly, to exert widespread electoral influence through promises of contracts and employees' job security.
In Bosnia and Herzegovina, state-owned enterprises are treated as electoral prizes. The management of enterprises (which includes control over hiring), changes after each election to reflect the new political reality and to fulfil electoral promises. Both cases illustrate a conversion of political power into economic power for electoral gain. This was a hallmark of post-communist transition in the region.
Institutional legacies of post-communist transition
The 1990s transition did not pave the way for democracy in Southeast Europe like it did in most of Eastern Europe. Instead, the introduction of competitive elections established competitive authoritarian regimes. These regimes exploited structural weaknesses and governance practices left over from state socialism.
Apart from clientelist relations centred around the perpetuation of economic benefits, we witness a concentration of power in the executive over parliament and the judiciary, and executive control over independent institutions such as media. This leads to the instrumentalisation of the courts both in terms of appointments and judicial practice.
Competitive elections established competitive authoritarian regimes instead of democracy in Southeast Europe
Executive appointments exert heavy control over public broadcast media in Montenegro and many other countries. Meanwhile, in Serbia, loyal private media are awarded significant public advertising funds. In all cases, we see policy used to reduce public accountability and preserve executive power.
Power is also dispersed from state administration and public institutions into a web of informal, party-controlled networks. This comes along with a weakening of state capacity. At the same time, it allows party leaders to retain close control of political processes.
In Albania, informal networks are widely used for gathering electoral funds and influencing elections. In Serbia and Bosnia and Herzegovina, decision-making is more reliant on political networks than institutional processes. Construction contacts and resource exploitation permits, for example, are regularly agreed on in party offices. Institutions then rubber-stamp them without due public consultation.
Is there a way out?
This heavy use of illiberal politics has resulted in a steady erosion of democracy and liberal values. It also preserves the dominance of ruling parties. These include the Serbian Progressive Party (SNS), the Democratic Party of Socialists (DPS) in Montenegro, and the Alliance of Independent Social Democrats (SNSD), the Croatian Democratic Union BiH (HDZ BIH) and the Party of Democratic Action (SDA) in Bosnia and Herzegovina.
These challenges might just succeed in averting a slide of Southeast European countries into authoritarian rule
Yet their rule is not without challenge. Change is possible, as the example of the Internal Macedonian Revolutionary Organization – Democratic Party for Macedonian National Unity (VMRO-DPMNE) in North Macedonia illustrates. There, a wave of massive civic protests led to electoral change and broke the illiberal politics of the ruling party.
Last year, elections in Montenegro brought a new coalition to power, ending thirty years of DPS rule. Widespread protests preceded these elections, too. Popular protests are happening in Serbia, Bosnia and Herzegovina, and Albania. The specific issues driving them all have a common cause – the illiberal politics enabled by executive dominance, corruption, and informal decision-making.
A symbiotic relationship between social movements and the political opposition is emerging. This is by no means a coalition but an opportunistic and purely programmatic, sometimes antagonistic, pact. With the general aim of increasing political transparency and accountability, such pacts just might succeed in averting a slide of Southeast European countries into authoritarian rule.
Seventhin a Loop thread on the spread of illiberalism – the 'illiberal wave'🌊 sweeping world politics
This article was originally published at The Loop and is republished here under a Creative Commons license.